New Canaan High School
Class of 1966
NCHS CLASS OF 1966 UPDATE
55th CLASS REUNION COMING 9/17 - 9/19 IN 2021: SAVE THE DATES!
Planning continues for the 55th Reunion. Click on '2021 55th Reunion' in the left column to read an update on plans from Harry Day and the Reunion Committee. We may need to change our plans but at the moment we hope to have our Saturday night event at the new Stamford Museum and Nature Center:
https://www.stamfordmuseum.org/
********************
We will always cherish our memories of our dear classmate Susann (Rabe) Neski, who we lost in April. Suzi had a shining smile, fabulous sense of humor, and danced with verve and vitality. She was a delight to know, and as kind and thoughtful a friend as anyone could hope to have.
Suzi was the driving force behind our 20th class reunion in 1986, which was the first time we had gotten together since our 1966 graduation. She made it happen through sheer grit and determination. She was an inspiration to every member of the committee, and she was tireless and creative in those fortunately bygone days of snail mail and phone book searches.
Everyone who knew Suzi misses her greatly, and we would like to offer our condolences to her much loved sisters and their families. The Barranco Funeral Home in Severna Park, Maryland has created a guest book that Suzi's friends have been using to share their memories:
https://www.barrancofuneralhome.com/guestbook/susann-neski
********************
"THEY CALLED NEW CANAAN HOME" BOOK EXCERPTS
Art Hahn (NCHS '63) published a book late in 2019 with profiles of 118 people who lived in New Canaan, and has kindly given us permission to post the following excerpts on our site:
Profiles of 1966 classmates Karen Santry, Reeves Callaway, and Janet Richmond
Profiles of Congregational Church minister Loring Chase, NCHS Music Director Jane Hilton, and NCHS Teacher and Administrator Jim St. Clair
Profiles of Paul Brooks, Matt Coyle, Blaine Leighton, Jim Lewis, V. Edgar Lind, Peggy Sherry, and Margaret Teeters
Click HERE for links to the profiles and an alphabetical index of all profiles in the book
********************
JULY 2019 FUN IN SARATOGA SPRINGS, NEW YORK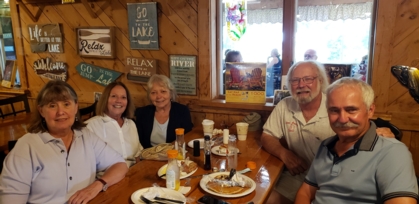 Lauren Holt, Marion Platt, Patricia Goodspeed-Grant, Bill Engelhardt, and Gary Duzinski recently enjoyed a summer weekend in Saratoga Springs, NY that included visits to the Saratoga Racetrack and the Saratoga Performing Arts Center.
********************
JUNE 14-17 2019 REUNION IN STONINGTON, CT HOSTED BY MAGGY AND BOB GILBERT
For more photos from the Stonington reunion, click HERE
********************
MARCH 2019 SARASOTA, FL MINI-REUNION 3 MEMORIES
Marion Platt and Gary Duzinski hosted their third mini-reunion in Sarasota, Florida,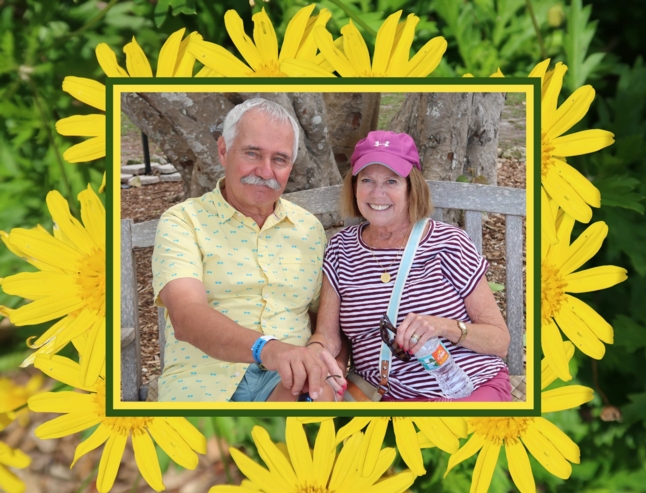 Cathy Janis created a musical slide show of the event: https://vimeo.com/328259839
If you have trouble seeing the slide show, try copying the link into another browser, such as Mozilla/Firefox.
Click HERE for more memories from the Sarasota weekend in March.
********************
December 2018 Philadelphia Mini-reunion #3 at Longwood Gardens
Maggy Wolf Gilbert, Merrie Metzger Wiechmann, Lauren Holt, Teresa Giannio Pace, Pam Alt Putney, Linda Hartley, and Mary Lou Ensselin Barton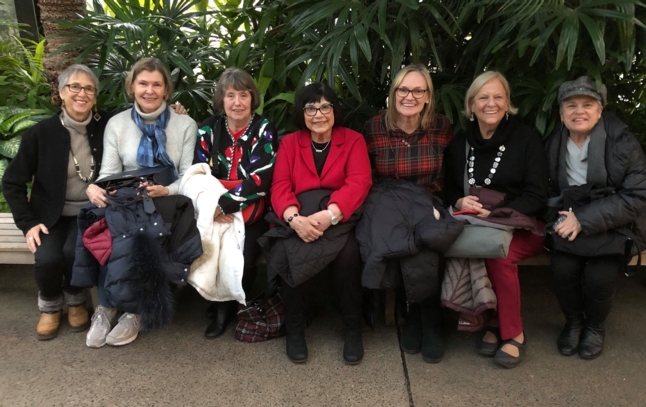 Click HERE for more info
********************
August 2018 New Hampshire Lakes Region Mini-reunion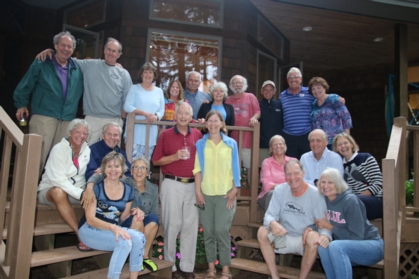 Click HERE for more photos
********************
Class Cruise Update
There is not enough interest in the September 2019 cruise from New York to Montreal, but Bob Janis (chateaubob@outlook.com) is looking at a number of other ideas and would be glad to hear from classmates about what they would like.
********************
June 2018 Mini Reunion in Farmington CT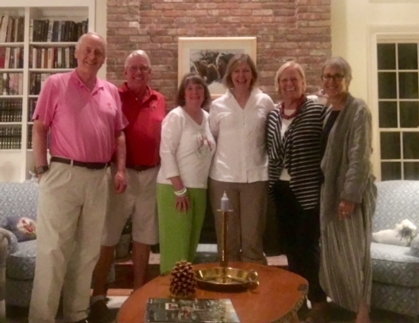 Merri and Eric Metzger Wiechmann hosted a recent mini reunion in Farmington.
Shown in the photo are Eric, Harry Day, Lauren Holt, Merri, Linda Hartley, and Maggy Gilbert.
Inquiring minds are beginning to wonder if the NCHS Class of 1966 ever plans to stop partying!
*******************
April 2018 Fun in Florida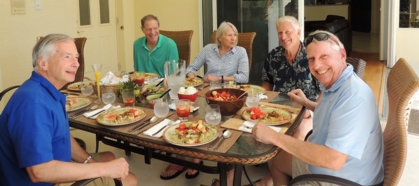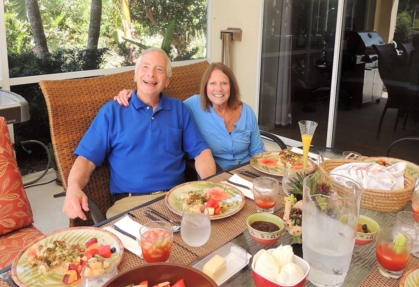 ********************
A group of classmates gathered in Philadelphia to help Lauren Holt celebrate an important birthday! Click HERE for more details and photos.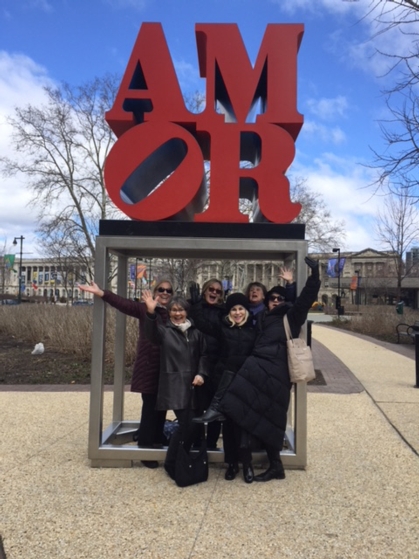 ********************
Marion Platt and Gary Duzinski hosted the second annual Florida mini-reunion at their home in Sarasota in February. Click HERE for photos, videos, and comments.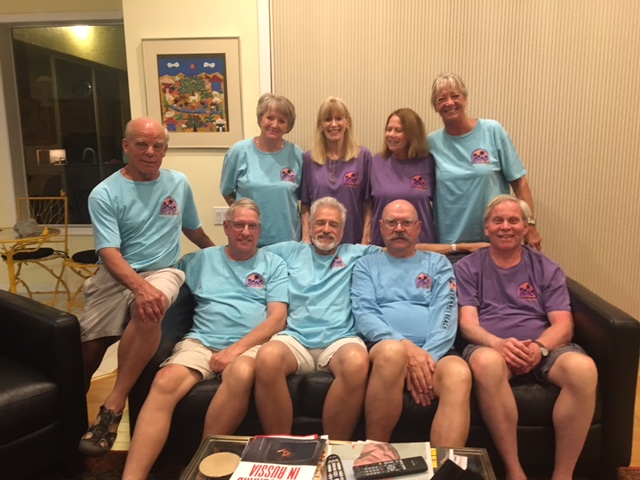 ********************
ANNOUNCEMENTS
From Peter Curcio...
If anyone gets the chance to visit Italy please take the tour from Rome to Almafi Coast and Capri to Venice and Naples Sorento and Florence. Just returned two weeks ago spent 12 days.

Sistine Chapel is unreal even have a few pictures of the ceiling.
I can go on and on but one must view that part of a real world experience. Must inform you a lot of walking 27 miles in 11 days on rough and uneven cobblestones of Volcanic Rock.